Cycle the Croatian Islands in 6 Days with Gulet Yacht Accommodation from Split to Dubrovnik
The Croatian Islands are an exhilarating cycling experience. And we all know that there are no exhilarating cycling experiences on flat land! Every island has a challenging hill (or two) opening up to incredible panoramic views in many cases and those glorious long descents into harbours. This is one of our tougher Active Tours but we've classified it as such because the distances together with what can be a challenging climb, still allow for more time in the afternoon and evening to enjoy a swim and relax into island life. Several of our Mallorca stalwart clients have been blown away with our routes on this tour and the quality of the cycling involved.
Without busy mainland traffic these beautifully maintained tarmac roads are a joy to ride with climbs that open up at every corner with a glorious vista. The clear water in all of the bays in Croatia viewed from on high are absolutely spectacular! Our beautiful Gulet Yacht provides a comfortable floating hotel from which to explore the southern Islands of Croatia's extensive and world renowned archipelago. These superb routes have been carefully put together to provide our clients with the right combination of holiday and fitness fun. Enough cycling to feel a wonderful sense of achievement and the satisfaction of being able to see the islands from an eco-friendly vantage point! 
If you'd like to find out more about cycling in Croatia we worked with our friends from Epic Road Rides to put together a more extensive guide to choosing a boat and bike tour in Croatia.
We've worked hard to bring you the best possible combination of challenging cycle fun and luxury.
Level of Difficulty, Distance and Climbing
This bike tour of the Croatian islands is suitable for our ACTIVE Riders. Find out if you are an AVID or ACTIVE style of rider here. It is approximately 70 km and 1,200 meters of climbing per day. There are long hills! But there are also glorious (and in some cases longer) descents.
Day One - Arrival Day in Split. Transfer to yacht.
Day Two – Brac Island 84 km 1,482 m
Day Three – Hvar Island 65 km 1,208 m
Day Four – Vis Island 48 km 991 m
Day Five – Korcula Island 58 km 974 m 
Day Six – Peljesac Peninsula 54 km 1,196 m
Day Seven – Mljet Island and The Peljesac Peninsula 62 km 1,130 m
Day Eight – Bus Transfer from Slano Harbour to Dubrovnik city (or airport)
Price
From £2,675 Per Person Sharing. Single rooms are not available for this tour.
Route Map of the Cycle Sail Croatia Island Tour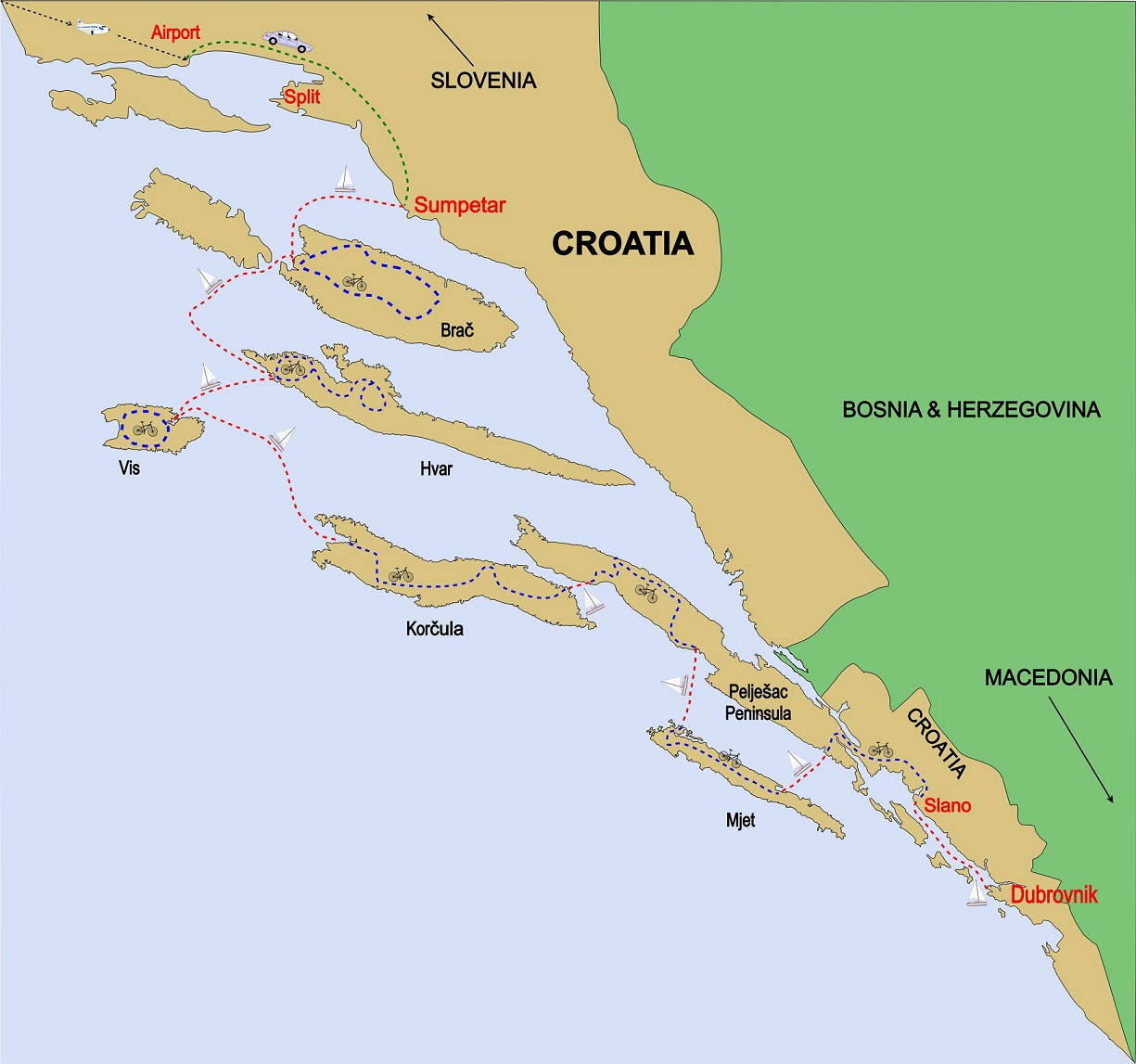 GPX Files for Your Croatian Cycling Holiday
All our cycle tours are supported with GPX files of the entire route. The GPX route files for your Croatian cycle tour will be sent well in advance for you to check uploading to your bike computer. Any prior known revisions will be resent. Ports of docking can change at short notice and guidance to exact docking points in harbours / marinas will be provided on the day. The basic routes remain largely unchanged.
7 Nights 8 Days
14 Sep 2024 and 22 Sep 2024
Split Airport
date & duration
availability
price
What is included in the tour
Accommodation on a beautiful wooden gulet yacht!
Breakfast and 4 evening meals on the yacht
Advice on places to stop for your morning coffee
Water, Soft drinks, fruit, cakes and bars en route
Support cyclist on all the routes
GPX route files
Transfer to Dubrovnik Old Town or Airport on Departure Day
What is NOT included in the tour
Airport transfer at the start from Split to the yacht is available for an additional cost (£40)
Optional trips / entry fees for any excursions you arrange independently
Bike box or bag removal at start, secure storage and delivery to finish (additional fee of £60 applies) 
Insurance - you need to organise your own bike and travel insurance as required
Gels, high energy bars, energy powder and shakes - bring your own as per what works best for you and your tummy!
Flights to Split / from Dubrovnik
An email will be sent out prior to the tour with a link to order extras such as bike box storage, airport transfers and merchandise
1. The Dingac Tunnel Descent
2. The Ancient City of Ston
3. Korcula Old Town
4. Vis Island - location of the filming of Mama Mia 2
5. The port of Hvar
6. Mljet National Park
7. The spectacular descent into Trpanj
8. Our lovely wooden Gulet Yacht
Croatia Cycle Route & Daily Itinerary
Arrival Day - Arrival in Split on the Croatian mainland and prepare
Cycle Brac island
Cycle Hvar island
Cycle Viz island
Cycle Korcula island
Cycle Peljesac peninsula 
Cycle Peljesac peninsula with a finish in Slano Harbour
Departure Day – Bus transfer to Dubrovnik
Please note that the boat motors between the islands generally in the early hours of the morning.
Cycling Terrain and Bike Suitability
The tour is mostly on quiet island roads with a small number of joining sections on busier roads. Some cycling in towns and cities is necessary. Roads are generally well surfaced and suitable for road bike tires of 25 mm or more. We recommend a good quality and well-fitted road bike with dropped handlebars. If bringing your bike in a box, we can remove it and return it to you at the end of the tour.
Luxury Yacht Accommodation
On this trip it's the accommodation that's really very special. Compared to our other more conventional point to point tours this one provides an experience not normally associated with your common or garden supported point to point cycle tour. (But then none of our tours fall into this category). Breakfast is prepared on board by the crew and will consist of local specialities. You'll have bread, croissants, fresh fruit, cereals, eggs, veg, cheeses, meat cuts, juices and
coffee all available.
Lunch, Snacks and Refreshments
For lunch or dinner (depending on our daily programme) you'll eat aboard enjoying a variety of local specialities and of course freshly caught fish.
Arriving for Your Croatia Islands Cycle Tour
Transfers can be arranged to the yacht for you and your bike from Split Airport, Croatia. We then prepare our bikes and spend the night on the yacht. This first night is included in the price of the tour. We sail to Brac Island early in the morning (you may well still be snoozing in your cabin!) and begin cycling after a hearty breakfast aboard this stunning boat.
Please contact us if you have other travel requirements you wish to discuss and we will do our best to assist!
Departure Planning
The tour finishes with a stunning ride on the Peljesac peninsula down to the beautiful, quiet Slano harbour.
We spend the night on the boat before transferring you to Dubrovnik Old Town or Dubrovnik Airport (this transfer is included in the Tour Price) . Approximate arrival time in Dubrovnik is 'lunch time' (12 - 2pm).
This ends our wonderful tour and you will then travel on as per your own arrangements.
We do recommend an overnight stay in Dubrovnik to fully appreciate this highly acclaimed World Heritage Site.
What to Expect on Your Croatia Islands Cycle Tour
Weather
The weather can vary. Our trip dates are selected to make the most of the sunshine without frying or severely de-hydrating our clients! Generally temperatures will be around 20 oC with occasional days of light rain showers. Bring clothing to cope with a range of conditions. Sun-screen will be required and insect repellent is highly recommended.
Group Size and Tour Leaders 
A maximum of 12 people will be on this tour with two tour leaders who will provide cycle support. Both leaders have previous tour support experience and are themselves cyclists who fully appreciate just how it feels however your day pans out. The tour leaders will cycle each day and carry any provisions you might need.
At the initial briefing all cyclists are provided with the tour leader and assistant's number, as well as that of the emergency services which they are instructed to use in the event of an emergency.
English is fairly widely spoken in the larger towns on the Croatian islands.
Camaraderie
Camaraderie forms a big part of the whole experience our tours provide and our tours are priced and catered for such that a single cyclist can feel comfortable making a booking and opt to share a twin room with someone they don't know.
People tend to settle into their own way of cycling throughout the day and groups can vary from day to day and evening to evening. You can cycle at your own pace for a solitary cycle or join others.
Navigating the Croatia Islands Cycle Route
We recommend you bring a bike computer onto which you can upload the GPX files of the route. GPX files of the Croatia route will be emailed to you before the start of the tour.
Bike Maintenance & Protection from the Sea Spray
With regards to mechanical issues it's helpful if everyone knows how to repair a puncture or replace a tube. However, we are on call if you need help re-seating a stiff tyre on the rim. Minor mechanicals can be dealt with roadside and where more specialist help is required we can transport you and your bike to a local bike shop to carry out repairs.
We recommend a cover to protect your bike from the sea spray whilst on the yacht.
Daily Routine
Every day starts with a hearty breakfast on the yacht and a briefing.
We'll advise of a suitable morning coffee stop for 'second breakfast' and we'll also specify a lunch stop. Sometimes there will be a choice of restaurant but in remote areas there may only be one suitable.
Every evening you will enjoy a scrumptious meal prepared by the onboard chef and waited upon by the yacht's resident Waitor / Waitress
Rider Type
Active Cyclist