Cycle Andalucia in Southern Spain
Fully Supported Cycle Tour of Andalucia
From Seville to Valencia in 8 Days
Suitable for the 'Avid' Rider.
Riding a bike in warm and scenic Andalucia in Southern Spain should be experienced by every cyclist! This fantastic cycle tour in Andalucia is one that will challenge you physically, but reward you hugely for your efforts! The route is both inland and coastal with that feeling of each day being better than the one before. The route winds its way from Seville to the coastal city of Valencia. We pass through many National Parks including La Sierra de Grazalema with the amazing town of Ronda where we stop and stay after day one. We spend a night in the buzzing city of Granada before cycling the northern regions of the Sierra Nevada mountain range - famous for pro cycling training camps. You won't feel alone on two wheels! We enjoy an incredibly beautiful single climb day in the glorious and prestine Sierra Espuña range with a glorious descent and 26 flowing switchbacks! Our final push to Valencia takes us through La Serra de Mariola with its tree-lined slopes. Ride across plains and steep mountain passes with flowing descents for miles on end. Pedal through fertile valleys sprinkled with white-washed villages. Push yourself on long, quiet, smooth roads surrounded on all sides by green sloped mountains with flowing rivers. This unique cycle tour of Andalucia is for experienced road cyclists not afraid to work hard and who welcome climbing and descending each day.
Wild Atlantic Cycling is offering this tour in partnership with Coast2Coast Cycling. Read the fantastic article kindly put together by the folk over at 'Epic Road Rides'.
Price - £1,710 Per Person Sharing. Some single rooms are available for an additional supplement of £360.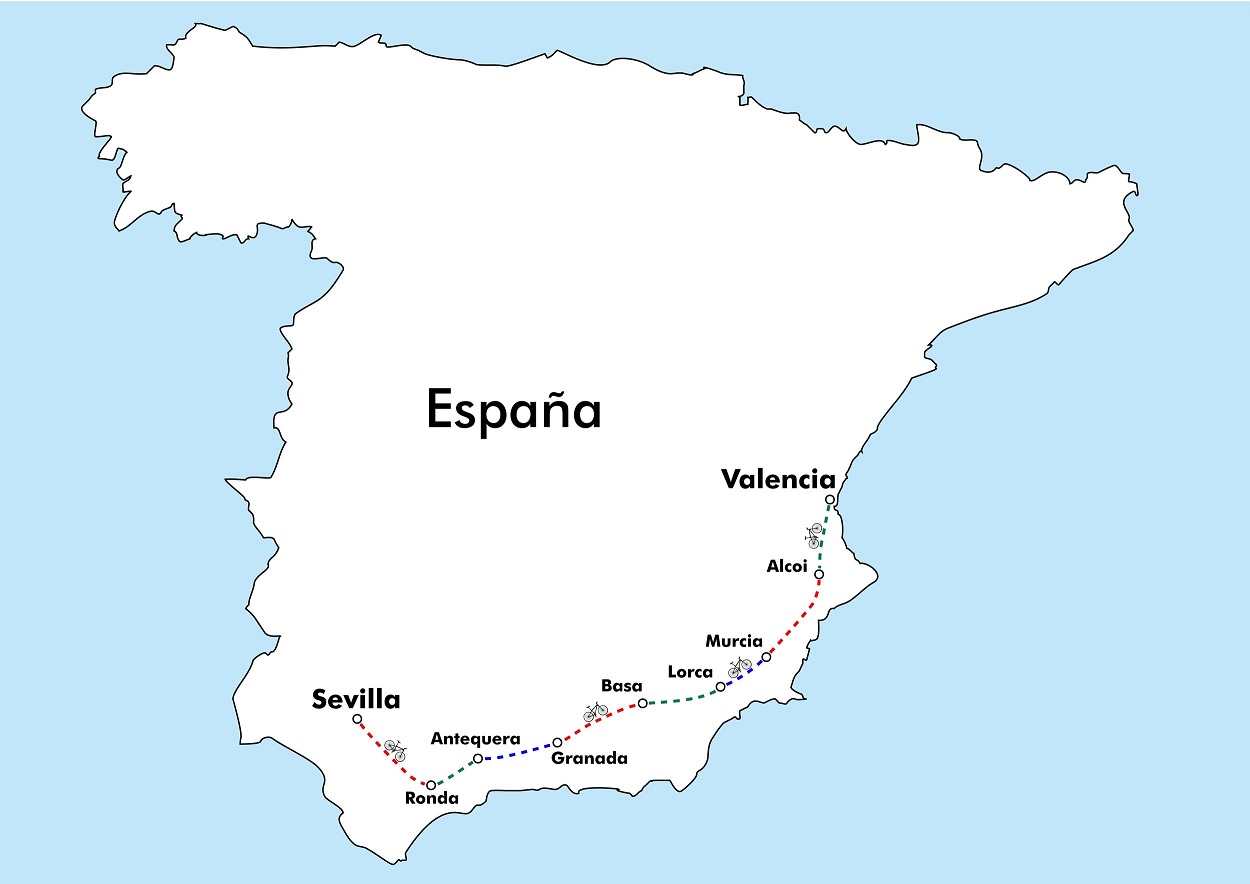 9 Nights 10 Days
Available on request
Dos Hermanas, Andalusia
What is included in the tour
10 nights bed and breakfast in good hotels
Van support with snacks
GPX files of the route
Daily briefings
Route profile sheets
Suggested coffee and lunch stops
Baggage transfer
Mechanical assistance and repairs arranged if required
Emergency pickup
Final group meal
What is NOT included in the tour
Airport Transfers at start (Seville Airport) and finish (Valencia Airport) can be provided for a fee. Approx £50 per transfer
Coffee breaks, lunch and evening meals (except the final meal in which is included). Options and recommendations for stops will be communicated at each morning's briefing and noted on the daily route sheet
Optional trips / entry fees for any excursions you arrange independently
Insurance - you need to organise your own bike and travel insurance as required
Gels, high energy bars, energy powder and shakes - bring your own as per what works best for you and your tummy!
Bike hire (we recommend you bring your own) or hire
Flights to Seville / from Valencia
An email will be sent out prior to the tour with a link to order extras such as bike box storage, airport transfers and merchandise
The historic and spectacular city of Ronda
Sierra Maria mountains
Granada and the Sierra Nevada range
The turquoise reservoirs of Andalucia
Climbing famous cols such as Puerto del Viento and Puerto de Los Blancares
Sierra Espuña - a must-do for any serious cyclist visiting Spain
The Megalithic Park of Gorafe and the Gor River canyon
The "world's most dangerous walkway" - El Caminito del Rey in the El Chorro gorge
The warmth of the people and the cold beer!
Andalucia Cycle Tour Route & Itinerary
Day 1 - Arrival Day (no cycling). Meet in our hotel just south of Seville for briefing and bike fitting / prep. We provide transfers from Seville Airport
Day 2 - Dos Hermanas to Ronda - 127 km 1,910 m
Day 3 - Ronda to Antequera - 90 km 1,770 m
Day 4 - Antequera to Granada (Zaidin) - 126 km 1,990 m
Day 5 - Granada (Zaidin) to Baza - 130 km 1,890 m
Day 6 - Baza to Lorca - 138 km 1,400 m
Day 7 - Lorca to Murcia - 100 km 1,436 m
Day 8 - Murcia to Alcoi - 142 km 2,200 m
Day 9 - Alcoi to Valencia - 132 km 1,250 m
Finish meal and drinks at our hotel to celebrate!
Day 10 - Departure Day (no cycling). We will arrange convenient transfer from our hotel to Valencia Airport for your return flight.
Total over eight days: 1,000 km 13,600 m
Average daily: 125 km 1,700 m
Travel Arrangements for your Andalucia Cycle Tour
Our meeting point is our hotel in the lovely town of Dos Hermanas, a short 30 min drive from Seville Airport. We will have a welcome and briefing meeting and unpack / prepare our bikes. 
Flying into Seville Airport on Arrival Day is likely your best option. From there we will arrange convenient transfers from the airport terminal to our hotel in Dos Hermanas
Flying out of Valencia Airport is likely your best option. We will arrange convenient transfer from our hotel in Valencia to the Airport for your return flight
The cycle route finishes at our hotel in Valencia. There will be a final group meal together that evening
Cycle hire is not included - we encourage you to bring your own. We can take charge of boxes / bags and provide secure storage before delivering back at the end. There is a charge of £70 to cover costs of fuel and manpower to make that all happen.
Due to the distance from the start to the finish point, bike rental is normally not available on this tour