Cycle Spain Coast to Coast 
Fully Supported Spain Cycle Tour
From San Sebastian to Tossa de Mar in 12 Days along the Pyrenees
Suitable for the 'Active' Rider. 
From glittering San Sebastián with its world-renowned Michelin-starred restaurants and tapas bars to the ancient medieval city of Girona and on to Tossa de Mar on the Costa Brava. Experience "Wild Espana". A Spain Coast to Coast cycle adventure taking in the Pyrenees Mountains in northern Spain from the wildness of the Atlantic to the blue warm waters of the Mediterranean. Daily averages are approximately 70 km and 1,000 meters of climbing per day. By comparison our Mizen to Malin Ireland End-to-End tour is 87 km and 800 meters over 12 days of cycling. If you fit the profile of our 'Active' cyclist (explore your rider style here), then our unique Spain Coast to Coast cycle tour will be a fabulous experience for you! All the thrills of northern Spain and the Pyrenees mountains in a gentler and more leisurely tour. Cycle high mountain passes one day, lush green valleys the next. Quintessential mountain-top villages, quiet, smooth roads meandering alongside steep river gorges, warm people, wholesome food and cold beer. All with the attentive support and easy-going encouragement of the Wild Atlantic Cycling team.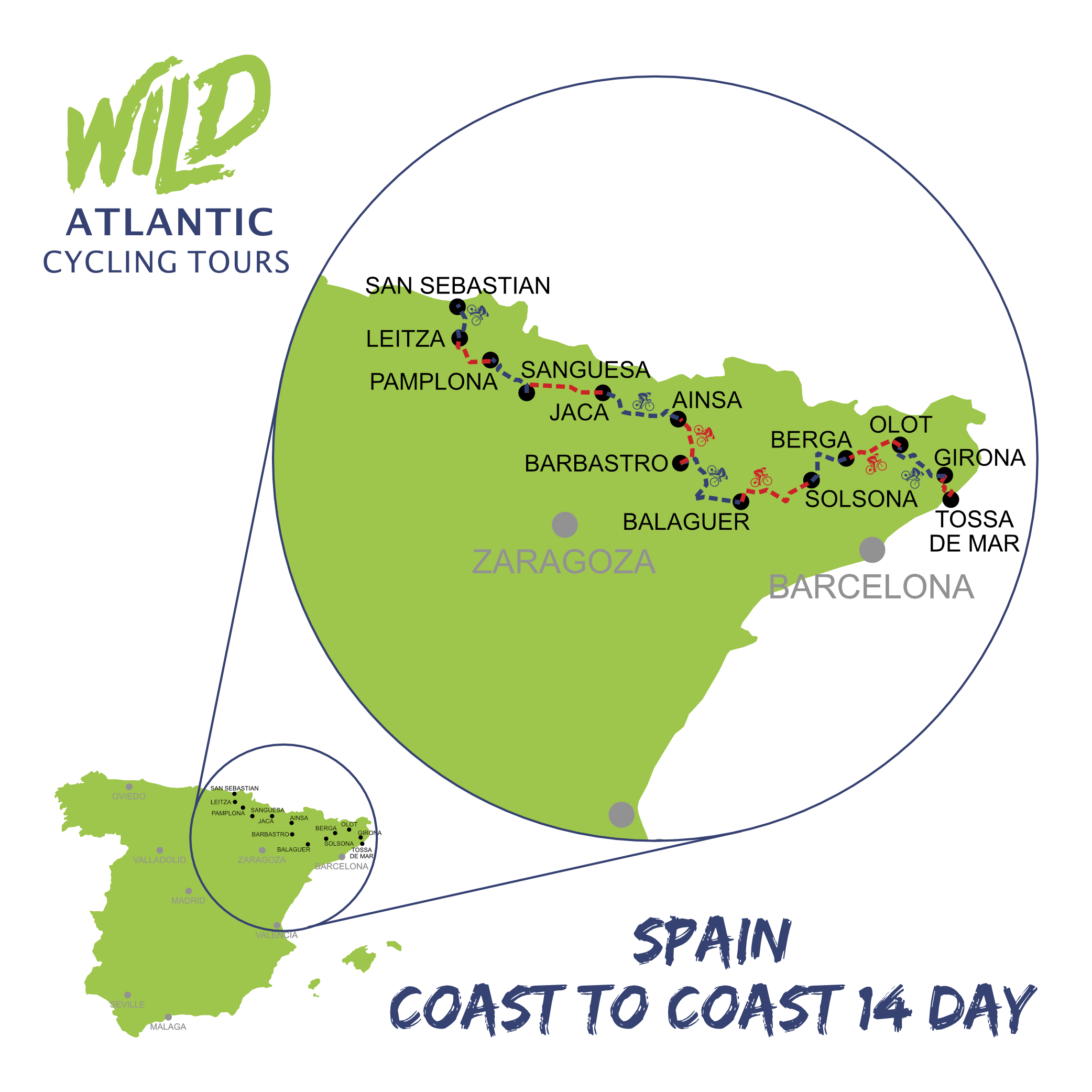 13 Nights 14 Days
14 Oct 2023 and 16 Oct 2024
San Sebastian, Basque Country, Spain
What is included in the tour
13 nights bed and breakfast in good hotels
Van support with snacks
GPX files of the route
Daily briefings
Route profile sheets
Suggested lunch stops (price not included) 
Baggage transfer
Mechanical assistance and arranged repairs
Emergency pickup
What is NOT included in the tour
Transfer to start from Bilbao Airport on arrival day (Choice of two times. Price subject to numbers; approx £70)
Transfer at finish to Barcelona Airport on departure day  (Choice of two times. Price subject to numbers, approx £80)
Removal, storage and delivery to Girona of your bike box or bag (price subject to numbers, approx £70)
Coffee breaks, lunch and evening meals (except the final meal in Girona which is included). Options and recommendations for stops will be communicated at each morning's briefing and noted on the daily route sheet
Optional trips / entry fees for any excursions you arrange independently
Insurance - you need to organise your own bike and travel insurance as required
Gels, high energy bars, energy powder and shakes - bring your own as per what works best for you and your tummy!
Bike hire (we recommend you bring your own)
Flights to Bilbao / from Barcelona
An email will be sent out prior to the tour with a link to order extras such as bike box storage, airport transfers and merchandise
Spain Coast to Coast Cycle Route & Itinerary
We start at the unique coastal town of San Sebastian in the Basque Country and finish on the Mediterranian coast at Tossa de Mar. The coast to coast route traverses the southerly and central regions of the Pyrenees and is designed to appeal to cyclists capable of riding 70+ KM and 1,000 Metres of climbing per day. Our very first tour will run in May 2022! A deposit of £350 will secure your place. We recommend booking early for this popular tour to avoid disappointment.
Arrival Day (no cycling). Meet in our hotel in San Sebastian for briefing and bike fitting / prep. We provide transfers from Bilbao Airport (1 hr 15 mins)
Cycling Day 1 - San Sebastian to Leitza 54 KM 1380 Metres
Cycling Day 2 - Leitza to Pamplona 64 KM 1008 Metres
Cycling Day 3 - Pamplona to Sanguesa 57 KM 744 Metres
Cycling Day 4 - Sanguesa to Jaca 75 KM 1024 Metres
Cycling Day 5 - Jaca to Ainsa 90 KM 1374 Metres
Cycling Day 6 - Ainsa to Barbastro 61 KM 1054 Metres
Cycling Day 7 - Barbastro to Balaguer 81 KM 823 Metres
Cycling Day 8 - Balaguer to Solsona 87 KM 1272 Metres
Cycling Day 9 - Solsona to Berga 42 KM 691 Metres
Cycling Day 10 - Berga to Olot 80 KM 1488 Metres
Cycling Day 11 - Olot to Girona 54 KM 591 Metres
Cycling Day 12- Girona to Tossa de Mar 60 KM 780 Metres
Departure Day (no cycling). Barcelona Airport is 1.5 hours by car, bus or taxi from Tossa de Mar

Total over 12 days: 800 KM 12,000 Metres
Average daily: 70 KM 1,000 Metres
Rider Type
Active Cyclist