Cycle Portugal End to End N2
Fully Supported Portugal Cycle Tour
From Chaves to Faro in 6 Days on the Epic N2
Suitable for the 'Avid' Rider. Approximately 120 km and 1,700 meters per day.
On our Portugal End to End tour you will cycle the length of this wonderful country from North to South mainly on the popular N2 route. The N2 in Portugal is known as Europe's Route 66. The tour starts in Chaves - located in Northern Portugal, next to the shores of Tâmega river and only a few kilometres away from Spain, Chaves is a city that has both a natural beauty and an incomparable historical and cultural legacy.
Accommodation is in good quality hotels that we have personally selected and visited. You will enjoy a fantastic breakfast each morning to fuel you for the day. Your luggage will be transferred each day. Our support van will be there in a jiffy if you need any assistance during the day. Water and bars and snacks are available without limit each day!
There is  a lot of choice when it comes to stopping off for lunch in local cafés and restaurants. Lunch and evening meals are not included in the price. On occasions you may choose to have an evening meal together with the group, or you are free to stroll around and explore the local cuisine which Portugal is known for!
Price - £1,330  Per Person Sharing. Some single rooms are available for an additional supplement of £350.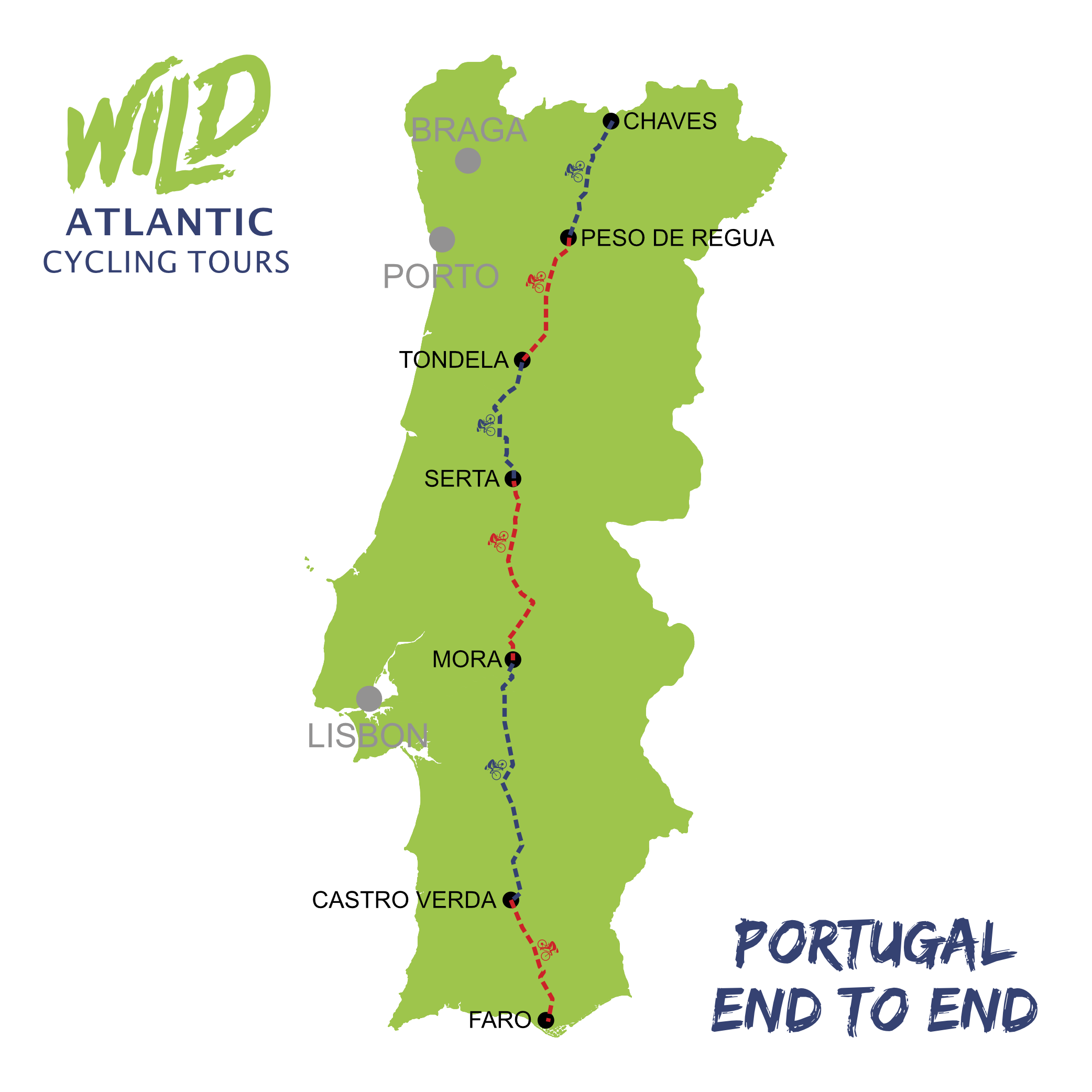 7 Nights 8 Days
05 May 2023 and 22 Sep 2023
Chaves
What is included in the tour
Airport transfer from Porto Airport at the start (additional fee may apply) 
Airport transfer to Faro Airport at the end (additional fee may apply) 
Accommodation and breakfast in great hotels
Luggage transfer
Advice on places to stop for your morning coffee
Water, Soft drinks, fruit, cakes and bars en route
Van and mechanical support
GPX route files
What is NOT included in the tour
Lunches - there are many cafés, bars and restaurants along the way
Evening meals - Our stopovers all have reasonably priced restaurants and pubs nearby and most of the hotels have good dining. Breakfast IS included
Bike box or bag removal at start, secure storage and delivery to finish (additional fee of £70 applies)
Optional trips / entry fees for any excursions you arrange independently
Insurance - you need to organise your own bike and travel insurance as required
Gels, high energy bars, energy powder and shakes - bring your own as per what works best for you and your tummy!
Flights to Porto / from Faro
Portugal End to End Cycle Route & Itinerary
With 3,000 hours of sunshine per year, Portugal is the perfect cycling destination! Come cycle the Portugal End-to-End with the experienced Wild Atlantic Cycling team. From Chaves to Faro on Portugal's epic N2 road - Europe's Route 66. This is a tour no cyclist should miss. You will enjoy rugged mountaintops, tranquil valleys cloaked in vineyards, as well and great culture & cuisine as you go!
The Portugal End-to-End tour is a challenging tour with some longer days in the saddle. Days vary, but generally the route has some climbs of medium difficulty and a few which are challenging. You will most likely need to train for the event and ensure you are fit enough to complete the distance and climbing.
The tour is primarily on quiet roads with a small number of joining sections on busier roads. Some cycling in towns and cities is necessary, particularly at the start and end of the day. Roads are generally well surfaced and suitable for road bike tires of 25 mm or more. We recommend a good quality and well-fitted road bike with dropped handlebars. If bringing your bike in a box, we can remove it and return it to you at the end of the tour. The route is very scenic with the following itinerary (note figures may differ slightly):
Day 1 Arrival Day
Day 2 Chaves to Peso de Regua - 90 km 1470 m
Day 3 Peso de Regua to Tondela  - 106 km 1890 m
Day 4 Tondela  to Serta  - 140 km 2400 m
Day 5 Serta  to Mora - 127 km 1,400 m
Day 6 Mora to Castro Verda. 165 km 1,563 m
Day 7 Castro Verda to Faro. 100 km 1,160 m
Travel Arrangements for the Portugal End to End
The tour starts in the beautiful and historical town of Chaves on the first date of the advertised tour with a detailed briefing. Flying to Porto is your best option. Direct flights to Porto are very reasonably priced from most UK cities (2 hr 30 mins approx) and elsewhere. We then prepare our bikes and spend the night in the our hotel. This first night is included in the price of the tour.
Please contact us if you have other travel requirements you wish to discuss and we will do our best to assist!
Departing at the End
The tour finishes in Faro. From here you can arrange your onward travels. We can provide transfer from our finish point to Faro Airport. You can fly to many UK cities (approx 2 hr 45 mins).