Cycle Spain Pyrenees Coast to Coast 
Fully Supported Spain Cycle Tour in the Spanish Pyrenees and Foothills
From San Sebastian to Girona (Cap de Creus) in 7 Days along the Pyrenees
Suitable for the 'Avid' Rider.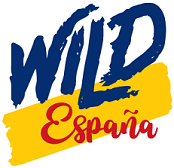 Experience "Wild Espana". A journey through the Pyrenees Mountains in northern Spain. Unlike the French side our Spanish Pyrenees cycle tour is kinder! Climbs are not as challenging. Some days are tougher than others of course, and some are only "severely undulating" as opposed to mountainous. However you will still enjoy a Pyrenees cycling challenge with amazing mountain scenery and glorious sweeping descents. Have a look at the Photo Gallery for an idea of what to expect and for all the daily stats and profiles see the Itinerary section below or why not order one of our very popular brochures (these are emailed to you immediately)?
Our unique Spain Coast to Coast takes you from the wildness of  the Atlantic to the blue warm waters of the Mediterranean. A journey with new colours at every turn. Cycle high mountain passes one day, lush green valleys the next. Quintessential mountain-top villages rising out of nowhere on the road ahead. Lose yourself as you pedal mile upon mile of quiet, smooth roads meandering alongside steep river gorges, decked with colourful flora. On the Spain Coast to Coast you will enjoy warm people, wholesome food and cold beer. Each stopover different from the last. Glittering San Sebastián with its world-renowned Michelin-starred restaurants and tapas bars. Buzzing Pamplona - a meeting point for walkers enjoying the Camino de Santiago. The cosmopolitan city of Jaca. The ancient medieval city of Girona. A mecca for discerning cyclists. The unforgettable landscape of the finish - the spectacular Cap de Creus. Here you can celebrate your achievement with an authentic Spanish meal and a cold beer.
Price - £1,480 Per Person Sharing. Some single rooms are available for an additional supplement of £320.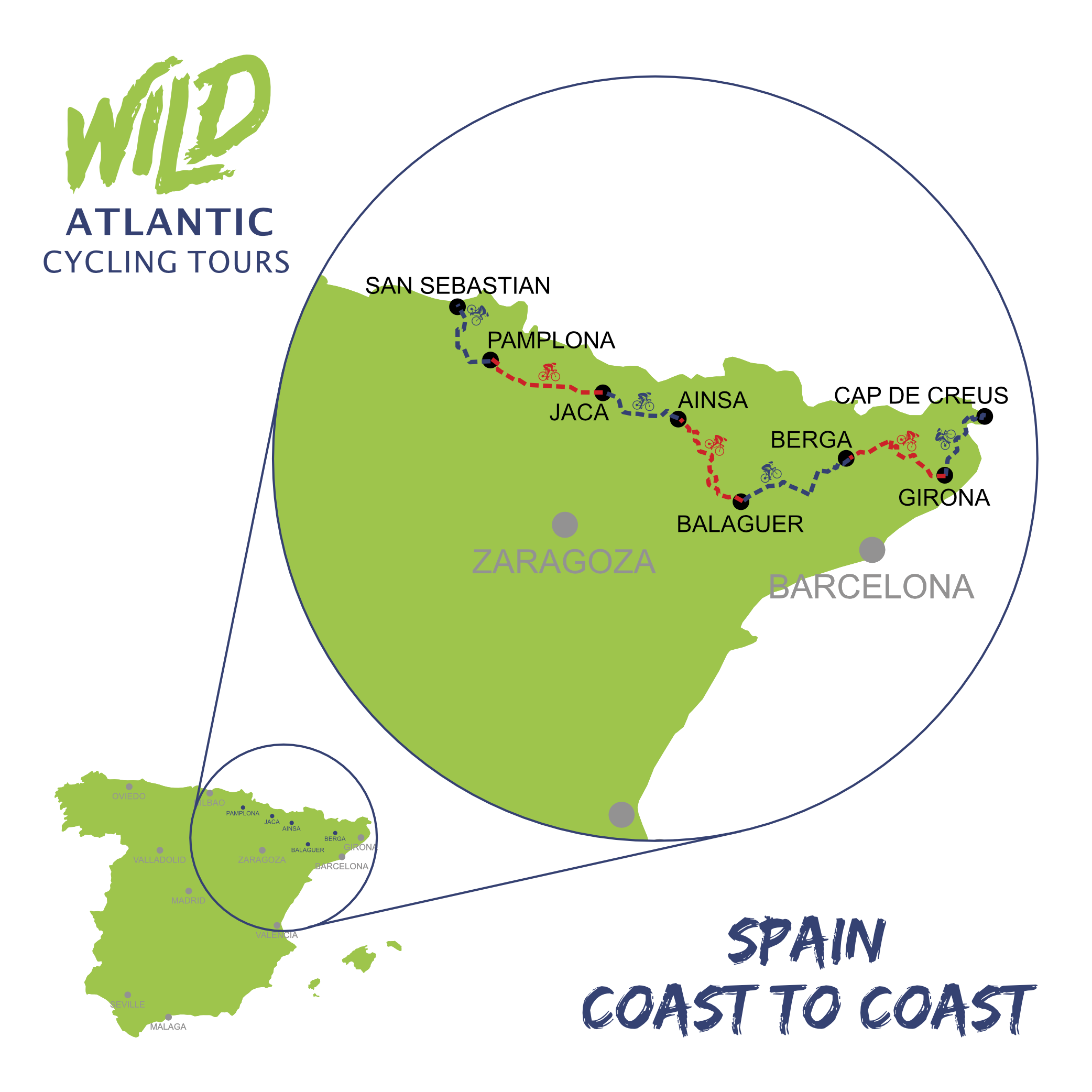 8 Nights 9 Days
05 Oct 2024
San Sebastian
date & duration
availability
price
What is included in the tour
8 nights bed and breakfast in good hotels
Van support with snacks
GPX files of the route
Daily briefings
Suggested lunch stops (not included in price)
Baggage transfer
Mechanical assistance
Emergency pickup
What is NOT included in the tour
Transfer to start from Bilbao Airport on arrival day (Choice of two times. Price subject to numbers, approx £70)
Transfer at finish to Barcelona Airport on departure day (Choice of two times. Price subject to numbers, approx £80)
Removal, storage and delivery to Girona of your bike box or bag (price subject to numbers, approx £70)
Coffee breaks, lunch and evening meals (except the final meal in Girona which is included). Options and recommendations for stops will be communicated at each morning's briefing and noted on the daily route sheet
Optional trips / entry fees for any excursions you arrange independently
Insurance - you need to organise your own bike and travel insurance as required
Gels, high energy bars, energy powder and shakes - bring your own as per what works best for you and your tummy!
Bike hire (we recommend you bring your own)
Flights to Bilbao / from Barcelona
An email will be sent out prior to the tour with a link to order extras such as bike box storage, airport transfers and merchandise
Spain Coast to Coast Cycle Route & Itinerary
We start at the unique coastal town of San Sebastian in the Basque Country and finish at the most easterly point - Cap de Creus in Catalonia. The coast to coast route traverses the southerly and central regions of the Pyrenees and is designed to appeal to cyclists capable of riding 110+ km and 1,800+ metres of climbing per day.
Arrival Day (no cycling). Meet in our hotel in San Sebastian for briefing and bike fitting / prep. We provide transfers from Bilbao Airport (1 hr 15 mins)
Cycling Day 1 - San Sebastian to Pamplona 108 km 2,300 m
Cycling Day 2 - Pamplona to Jaca 120 km, 1,600 m
Cycling Day 3 - Jaca to Ainsa 90 km, 1,400 m
Cycling Day 4 - Ainsa to Balaguer 140 km, 2,225 m
Cycling Day 5 - Balaguer to Berga 130 km, 2,000 m
Cycling Day 6 - Berga to Girona 130 km, 1,920 m
Cycling Day 7 - Girona to Cap de Creus 86 km, 1,066 m. Finish meal included in price!
Departure Day (no cycling). We will arrange convenient transfer from our hotel in Girona to Barcelona Airport for your return flight (2 hr 15 mins)
Total over seven days: 800 km 12.500 m
Average daily: 120 km 1,900 m (does not include final day as it is shorter)
Travel Arrangements for your Spain Coast to Coast Cycle Tour
Our meeting point is our hotel in San Sebastian on the evening of the start day. We will have a welcome and briefing meeting and bike fitting with our bike rental partner (Bike Breaks Girona).
Flying into Bilbao Airport on Arrival Day is likely your best option. From there we will arrange several convenient transfers right from the airport terminal to our hotel in San Sebastian (1 hr 15 min)
Flying out of Barcelona Airport on the finish day is likely your best option. We will arrange convenient transfer from our hotel in Girona to Barcelona Airport for your return flight (2 hr 15 min)
The coast to coast cycle route ends at Cap de Creus. From there you will be collected and transported back to Girona for a final hotel night. There will be a final group meal together at our chosen Girona hotel.