Cycle from San Sebastian to Cap de Creus in 7 days. 
Approximately 115 km and 1,600 meters per day. 
Suitable for the 'Avid' Rider.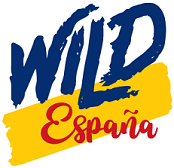 Experience "Wild Espana". A journey through the Pyrenees Mountains in northern Spain. From the wildness of  the Atlantic to the blue warm waters of the Mediterranean. A journey with new colours at every turn. Cycle high mountain passes one day, lush green valleys the next. Quintessential mountain-top villages rising out of nowhere on the road ahead. Lose yourself as you pedal mile upon mile of quiet, smooth roads meandering alongside steep river gorges, decked with colourful flora. Enjoy warm people, wholesome food and cold beer. Each stopover different from the last. Glittering San Sebastián with its world-renowned Michelin-starred restaurants and tapas bars. Buzzing Pamplona - a meeting point for walkers enjoying the Camino de Santiago. The cosmopolitan city of Jaca. The ancient medieval city of Girona. A mecca for discerning cyclists. The unforgettable landscape of the finish - the spectacular Cap de Creus. Here you can celebrate your achievement with an authentic Spanish meal and a cold beer.
Dates & Pricing
15 May to 23 May 2021 £1,495 per person sharing. Single supplement £320
20 to 28 September 2021 £1,495 per person sharing. Single supplement £320
2 October to 10 October 2021 £1,495 per person sharing. Single supplement £320 FULLY BOOKED
Book now with only £250 deposit or just tell us you're interested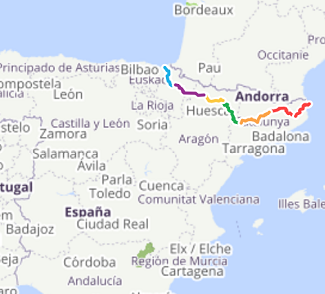 8 Nights 9 Days
15 May, 20 Sep, and 02 Oct
Hotel Hesperia Donosti, San Sebastian
What is included in the tour
Transfer to start from Bilbao Airport
Transfer at finish to Barcelona Airport
8 nights bed and breakfast in good hotels
Van support with snacks
Spanish speaking support with local knowledge
GPX files of the route
Daily briefings
Route profile sheets
Suggested coffee and lunch stops
Baggage transfer
Mechanical assistance and repairs
Emergency pickup
Final group meal
What is NOT included in the tour
Coffee breaks, lunch and evening meals (except the final meal in Girona which is included). Options and recommendations for stops will be communicated at each morning's briefing and noted on the daily route sheet
Optional trips / entry fees for any excursions you arrange independently
Insurance - you need to organise your own bike and travel insurance as required
Gels, high energy bars, energy powder and shakes - bring your own as per what works best for you and your tummy!
Bike hire (we recommend you bring your own) or hire from Girona Cycle Centre.
The Basque Country - with the glittering resort of San Sebastián and lush, rolling hills. We cycle through traditional small and thriving towns, making the entire region colorful, fun, welcoming. But don't expect 'flat'! This is challenging cycling.
Pamplona, the capital of Navarre province. Known for the Running of the Bulls when bulls are led through the city streets by daredevil runners. A major stop along the "Camino de Santiago" and one of our key stopovers on the Spain Coast to Coast!
Climbing and descending stunning cols such as the Puerto de Serrablo.
Jaca - known as the "pearl of the Pyrenees" is a cosmopolitan European city. Then it's higher still into more mountains - peaking at 4,200 ft the highest point on the tour.
The panoramic views amidst the mountains as we cycle through the hilltop mountain village of Ainsa and the great rock bastion of La Peña Montañesa.
Fabulous cycling along the Ara and Cinca rivers, which flow down from the Pyrenees.
A stunning finish at mainland Spain's most easterly point - the spectacular Cap de Creus!
We start at the unique coastal town of San Sebastian in the Basque Country and finish at the most easterly point - Cap de Crues in Catalonia. The route traverses the southerly and central regions of the Pyrenees and is designed to appeal to cyclists capable of riding 70+ miles and 5,500+ feet of climbing per day. The date of the first tour is 1st to 9th October 2020. This filled up very quickly! We are now taking bookings for 2021! A deposit of £250 will secure your place. We recommend booking early for this popular tour to avoid disappointment.
Day One - Arrival Day (no cycling). Meet in our hotel in San Sebastian for briefing and bike fitting / prep. We provide transfers from Bilbao Airport (1 hr 15 mins)
Day Two - San Sebastian to Pamplona 67 mi 7,600 ft
Day Three - Pamplona to Jaca 76 mi 5,300 ft
Day Four - Jaca to Ainsa 56 mi 4,500 ft
Day Five - Ainsa to Balaguer 88 mi 7,300 ft
Day Six - Balaguer to Berga 85 mi 6,500 ft
Day Seven - Berga to Girona 80 mi 6,300 ft
Day Eight - Girona to Cap de Creus 54 mi 3,500 ft. Finish meal included in price!
Day Nine - Departure Day (no cycling). We will arrange convenient transfer from our hotel in Girona to Barcelona Airport for your return flight (2 hr 15 mins)

Total over seven days: 506 mi 41,000 ft
Average daily: 72 mi 5,857 ft
Hotel Hesperia Donosti, Zarautz Kalea, Donostia-San Sebastian, Spain
View on Map